The decision to put a new roof on your home is a big one – but one that sooner or later must be made. Old, brittle, badly worn shingles are a roof leak just waiting to happen – and when roofing gets past its warranty, you are running extra risks every time a rainstorm heads your way.
MWCR is here to bring your home's roof back to its former glory after recent hail damage, wind damage, or just after years of serving your home faithfully. We offer a variety of services from repairs to full replacements, including emergency repair after a storm.
Rely on a reputable, local Minnesota roofing contractor to handle your roof replacement job from beginning to end for best results. But it also pays to understand the process yourself, so you know what is going on.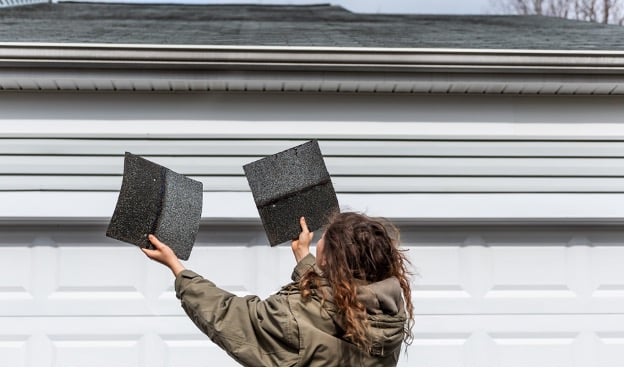 Below are seven steps that every good roofing company should follow in replacing your old roof with a brand new one!
(FYI: Midwest Construction and Remodeling follows these)
1. The Pre-Planning Stage
Every effectively done construction project, including roof replacement, requires smart pre-planning to achieve optimal results. Midwest Construction and Remodeling will "size up" your roof in terms of square footage to determine how much material to order and in terms of shape and contours to get an idea of difficulty level and best approach. Based on these factors, we will give you a free, no-obligation, competitive quote; and if you accept it, it will give you a solid start date.
2. Preparing the Job Site
Next, the worksite must be prepared. That entails bringing in a dumpster to catch the old shingles and other debris, laying down tarps wherever necessary to protect your siding, windows, bushes, and lawn. Ladders, roof jacks, and other equipment will be brought on-site, along with the roofing material itself.
3. Removing the Old Roofing
Never, never, never put new roofing shingles over old ones. That would prevent the new shingles from laying properly, weaken them, and ultimately shorten their lifespan. So instead, all old shingles must be removed, along with roofing nails and flashing.
4. Roof Deck Inspection
At this point, the roof deck must be totally "cleaned up" and inspected. If rotten or badly weakened wood is discovered, it will be replaced. Plus, if nails are missing in the roof deck or if the decking bounces instead of laying down solid and flat at points, it will need some re-nailing work.
5. Preparing the Deck
After inspecting the deck, next, it must be prepared for the shingles. That means laying down drip edge along the eaves, flashing around chimneys and vents or in roof valleys as needed, and heavy-duty roofing felt (underlayment) over the whole roof deck. There will also be points where roofing caulk or tar (around chimneys) should be used help prevent leaks.
6. Installing the New Roofing
Working from the bottom edges of the roof upwards to overlap shingles properly to shed water, Midwest Construction and Remodeling will now install the new shingles. Special caps will need to be placed at the peak and on hip rises, and shingles will have to be cut with care in the valleys and over/around dormers.
7. Cleanup & Final Inspection
No job is truly complete until all waste is removed from the site. Midwest Construction and Remodeling will dispose of it all and does not expect the homeowner to do so in his/her trash can. Rolling, wheeled magnets can be used to scour the perimeter for any loose nails. A final inspection of the work and the site is the last step.