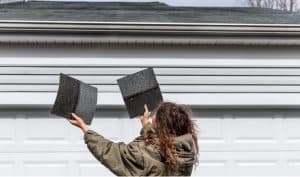 Keeping your roof well-maintained can help prevent wind, snow, and rain damage. Places like Minnesota are often subject to harsh winters that can lead to roof collapses. A damaged roof can be expensive, so it's in your best interest to invest in more sustainable roofing materials that can last longer.
The right green roofing material will depend on several factors, such as materials and your price range. As your trusted roofing company in Minnesota, we cover the most sustainable roofing materials and their benefits. 
Types of Roofing Materials and Their Advantages
Roofing systems are made from different materials, including:
Metal

– It takes a lot to produce, but they are among the longer-lasting materials. 

Slate

– Highly durable, but it's not sustainably sourced and can be very expensive to produce. 

Clay Tile

– Genuine clay tiles are often costly and hard to produce. However, they are very sustainable and long-lasting.

Wood Shingles

– Wood is sustainable and easier to produce if properly sourced. However, their sturdiness is moderate compared to other materials.

Asphalt Shingles

– Known as composite shingles, they are as durable as wood shingles. Since they're made with petroleum, they do not make for a sustainable material, but some companies make them using recycled shingles. 

Concrete Tile

– While it's more durable than other materials, it's not as eco-friendly since it's made using CO2 emissions.

Green Roofs

– Also called living roofs, they are flatter and have low slopes covered in vegetation. They may be expensive and require extensive maintenance, but they are also eco-friendly. 
What Is Sustainability?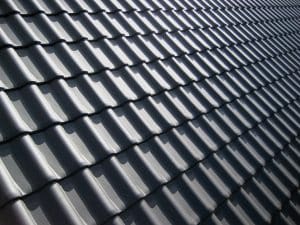 We've gone over the different types of roofing materials, but before moving on, we need to define sustainability. 
A sustainable material is a raw material that can be sourced and produced without causing damage to its resource. For this reason, materials that need to be mined or made using fossil fuels are not considered sustainable.
What To Consider When Selecting Roofing Materials
The average cost of roof replacement may range between $8,000 to $23,000. Hence, selecting the best possible material is vital before proceeding with any work.
Maintenance
Depending on how much it will take to maintain, it may be better to go with a more expensive but longer lasting roof. Some sustainable materials can be costly to maintain, but it's worth the extra buck if you want to be eco-friendly.
Slope & Weight
The slope of your roof could impact the number of materials needed and whether they can fit that type. Weight could also have an impact on your house. It's essential to go over this with your contractor before choosing. 
Recyclable Materials
Without sacrificing durability, look for materials made with a high percentage of recycled materials.
Work with a Reliable Roofing Company
If you're looking for a new affordable and sustainable roof, you've come to the right place. Our team prides itself on quality work and customer satisfaction. 
Midwest Construction & Remodeling is the number one roofing company in Minnesota. We believe that home renovations and remodeling don't need to be stressful experiences. Contact us today to discuss your project.