Gutter repair often falls low on the priority list for many homeowners. While it's easy to overlook the need for repairs throughout the year, the unchecked buildup of leaves and debris can lead to more severe issues. Larger debris, such as sticks, moss, and even small items like plastic wrappers, can become lodged on your roof, causing blockages in your gutters.
These blockages restrict water flow, potentially resulting in significant roof leaks and the onset of mold and mildew. In Minnesota, these risks escalate during winter, with extremely cold and snowy weather exacerbating the situation. Water gets trapped and freezes, leading to the formation of ice dams and icicles that can cause damage to your gutters.
How to Clean and Unclog Gutters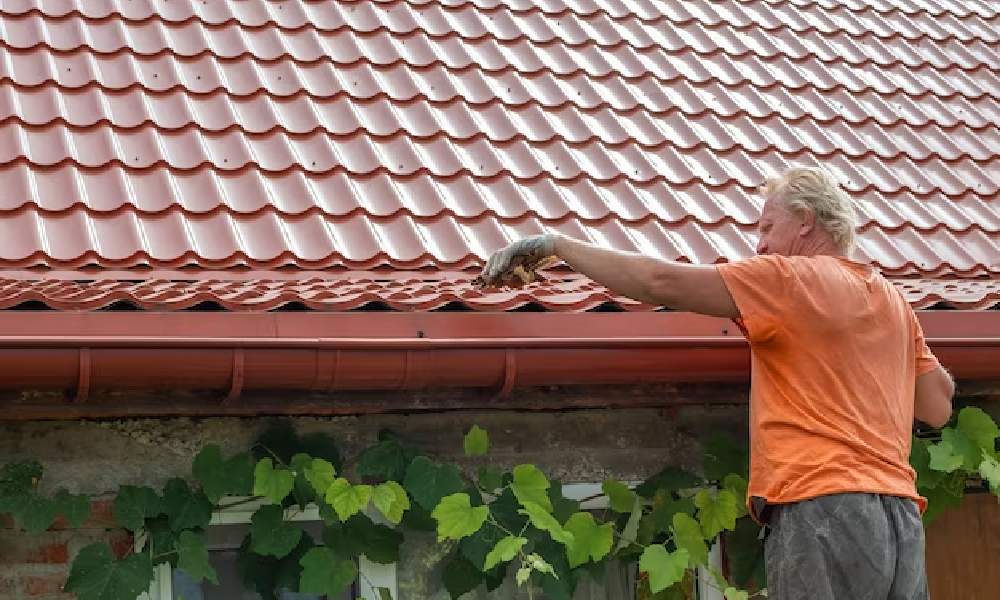 Clogged gutters and overflow can be hard to spot until they cause more substantial issues. That's why we recommend cleaning them at least twice a year and ensuring they are in perfect working condition. But knowing where to start may be difficult if you're not in the habit of performing regular checks. Use this step-by-step guide to prepare for doing it yourself.
Step 1 – Prepare Adequate Equipment
Climbing up on the roof and performing manual labor is no easy feat. It involves several risks to your physical well-being, so you must take possible safety precautions. Ensure you have a sturdy ladder long enough to reach the eaves, ensuring you don't overextend yourself. Have a pair of heavy-duty gloves and preferably some head protection, and never do this work alone. Always bring a buddy along for added safety.
Step 2 – Choose the Right Time
The best time to go up on the roof and clear your gutters is before the rainy season hits the Midwest. While it may seem urgent to check for any damage or debris after a storm, waiting for a dry day with no winds is best to minimize the chances of slipping.
Step 3 – Identify the Issue
After getting up on the roof, carefully assess the situation and identify if any portion of the gutter needs to be replaced or patched up. Look for discoloration, paint chipping, and areas that show signs of rust or corrosion, and check that everything is firmly attached. Check the parts where waste tends to gather the most and start there.
Step 4 – Remove All Debris
You never know what you might find, from leaves and rocks to nests and small animals. That's why it's best to do this step manually. Remove the bulk of the accumulated particles by hand or with the help of an extendable gutter scoop, and place them in a garbage bag. 
Step 5 – Flush the Downspouts
The final step is to pressure wash the gutters and the downspouts. That will not only remove the inevitable layer of grime but will also flush out any remaining refuse stuck in the vertical pipes. Before doing the final wash, give your roof a good clean and flush away loose bits at the same time.
How to Install and Maintain Gutter Guards
Gutter maintenance is a serious time commitment for homeowners. To reduce the build-up of waste and the need for more frequent cleanings, you can opt to install gutter guards. They are devices fitted inside or over your existing gutters, which encourage the free flow of rainwater by filtering out large particles like leaves and sticks.
There are several types of gutter guards you can choose from. All have different difficulty levels when it comes to installation, so do your research and choose the one that best matches your skills.
Brush, foam, and sponge guards

– All you need to do to install these devices is to pop them inside the open gutters and trim them to size if necessary. 

Plastic or metal screens

– These screens are sold in rolls that must be cut to fit over your gutters. The installation process is more complicated, as one side needs to slide under the first row of shingles while the other side fastens with clips or screws to the gutter wall.

Micro-mesh screens

– This product offers the best results over time but requires precision and skill to properly attach to the gutters. Different brands use different attachment methods, so follow the instruction manual carefully.
While gutter guards reduce the chances of waste collecting in your gutters to cause a clog, they also need regular maintenance and clearing. An important factor that may affect their effectiveness is proper installation. Many professional gutter repair businesses offer this service if you feel unsure of your handyman skills or just want the job done right the first time. 
How to Add or Upgrade Downspouts
If your gutters are prone to frequent overflowing, even with regular cleanings, that may indicate you need to add more or install better downspouts. You can call in the experts, or if you decide to tackle this project yourself, follow these simple instructions:
Plan the placement

– Ideally, every house should have one downspout per 30 feet of guttering. Measure the lengths of your guttering and plan to add extra pipes at the end of the gutters.

Choose the right materials

– You can choose between aluminum, galvanized steel, and copper. Aluminum is the most lightweight, while copper is the most durable option.

Measure and cut to fit

– Downspouts should extend at least 4 feet from the house and direct the water flow away from the foundation.

Secure the downspouts

– Use downspout elbows to attach them to the gutter, and secure them to the exterior of the house by using brackets or straps.
Midwest Construction & Remodeling: The Best Gutter Repair in Minnesota
Maintaining your gutters demands considerable time and effort but proves to be a worthwhile investment, saving you both money and potential headaches in the future. At Midwest Construction & Remodeling, our seasoned professionals offer a comprehensive range of gutter repair services.
Equipped with extensive expertise, we handle various projects, from thorough gutter cleaning to complete removal and installation of a more efficient system. Our services encompass everything—from installing gutter protection to adjusting existing pieces for a seamless fit. Quality work is our guarantee.
Don't find yourself caught in the rain this fall. Contact the leading gutter repair experts in town today to safeguard your home and peace of mind.